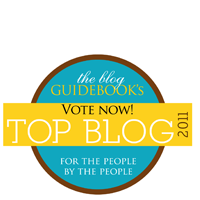 I am so excited that you all helped me get to Round 2 of Voting on
The Blog Guidebook's Top Blog 2011!
If you wouldn't mind, I would LOVE for you to vote for me again
(voting started over for round 2)
Voting is open until 11/23 & ONLY the Top 5 Blogs with the most votes go to the final round!
So, if you enjoy my blog, I would LOVE for
you to vote
!
Thank you so much for all your support!